A very busy year!
I think the headline says it all. Here it is the middle of the summer, and I've only just had a bit of time to sit down and share some of the stuff we got up to this year. This was the second year that Dunwoody Music ran the stage at Lemonade Days, and despite the rain, it was step in the right direction. Hopefully they'll have us back again! I want to say thanks to all our performers who came out to entertain the crowd. If you'd like to know a little more about our headliners, you can follow the links below.
Crane
Cute Boots
Array
No Komment
Many of the artists featured on this year's stage also contributed to a charity CD which was sold at the festival.  Through this effort, over $500 were collected and will be used to purchase reeds, replace mouth pieces, and repair instruments for the Crawford Long Middle band program.  There was a write-up in the Dunwoody Crier as well.  Hats off to Nolan Bennett, drummer in Array, for coming up with the album art concept.  The actual rendering of said art was done by Keith Bennett, father of Nolan Bennett. . . drummer in Array.  Sorry, that was just too awkward to resist.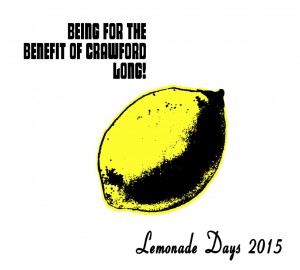 Also, there was the Vanderlyn Elementary spirit night, which was headlined by Meltdown and Taba Rana, featuring a guest appearance by Asher Leish.  This was both groups' first performance as a headlining act!  The kids from Vanderlyn really seemed to dig it.  It was an enjoyable evening show hosted by the Village Burger.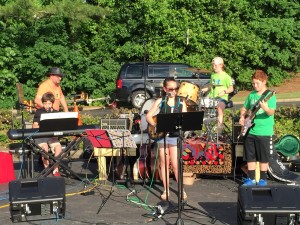 And. . . there was the open mic at Crema Cafe.  Many young artists from the Dunwoody area came out to perform for the crowd gathered there.  It was certainly one of the nicest days of the year to be outside.
To wrap the year up, we had one final collaboration with the Atlanta Jewish Music Festival.  The Teen Band Showcase was originally supposed to happen at Lemonade Days, but it was cancelled when tornadoes were seen in the area.  Some people just don't know how to rock. . . but really, it was a good idea not to risk it.  It was really hot; like so hot that people were like, "why's it so hot?"  Nevertheless, all the bands did a bang up job.  Here's a clip of New Era performing "Shake it Out" by Florence and the Machine.
Needless to say, I should be better about getting these things up!  We have couple months before shows will start popping up again.  Without spoiling the suspense, I will say that we have some really special stuff planned for this year.  As well as keeping the local plastic surgeons in business by rocking everybody's face off, our young local talent will be using their music to help make a positive impact in the Dunwoody community and the area at large.  Stay tuned and enjoy your summer!